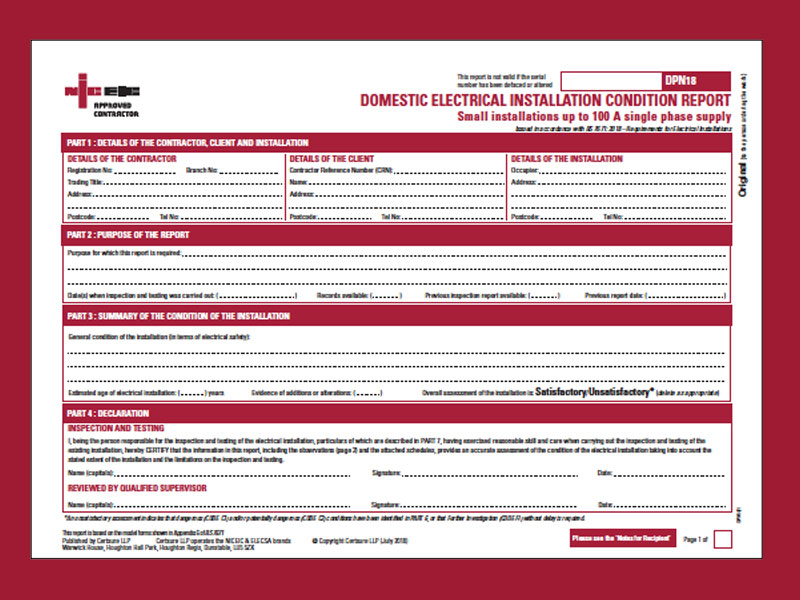 Below sets out some of the basic principles of what to expect and when you should have an Electrical Installation Condition Report (EICR) completed.
An Electrical Installation Condition Report is an in depth Electrical safety check on your properties electrical wiring. Unfortunately over a period of time the electrical wiring in your property will start to show signs of age and deterioration. This will not necessarily be made aware of unless you have an EICR completed.
When is an EICR required?
Home owners – It is recommended home owners have an EICR completed every 10 years. If the property has a swimming pool present then it is recommend you have this completed every year.
Business owners – It is recommended business owners have an EICR completed every 5 years.
Landlords – It is now a legal requirement that all landlords have their properties tested every 5 years or at change of tenancy. This will need to be documented with any letting agent (if you have one present).
What do we do when completing an EICR?
When we complete an EICR we will be checking the following-
Condition and age of consumer unit installed.
Condition of supply cable & Earthing arrangements.
Condition of the current wiring, accessories & Carrying out a sequence of tests on each circuit.
Amount of sockets etc and load on each circuit.
External supplies or outbuildings, Including the condition of external lighting and power points.
There a various other important safety checks we carry out which are not noted above however those are the most relevant.
We will also check and test your smoke alarms in domestic properties free of charge while on site. Although this is not part of the EICR testing process we will update you and make notes on the current smoke alarm system installed to ensure you or your tenants are as safe as you can be.
What happens if the property fails the EICR?
Should any C1 or C2 items appear on the EICR report causing the property to fail, you will have 28 days from the date of the inspection to have any remedial works that are required completed. Lyons electrical will always discuss any potential issues in depth and provide you with an estimate for remedial works at the same time the EICR report is issued. However you are within your rights to instruct a third party to quote and complete for remedial works. However they must provide you with a "Confirmation of completed works".
How can Lyons Electrical assist?
Hopefully the above information was useful and you have gained some knowledge of what an EICR incorporates. If you would be interested in hiring Lyons Electrical to carry out your EICR or would like further information please contact us. Our EICR inspections start from £155.00 and prices vary depending on property size, or business type.
We also offer maintenance & testing packages tailored to your business needs.